Main content starts here, tab to start navigating
A Celebration Of New York And All Things Local
Loring Place by Chef Dan Kluger is located at 21 W. 8th Street in the heart of New York's Greenwich Village. The restaurant is the culmination of a lifelong dream for the chef who has cooked in some of New York's most beloved restaurants for the city's top restaurateurs. He is best known for leading the teams at ABC Kitchen and ABC Cocina as Executive Chef (named Best New Restaurant 2011 by the James Beard Foundation). At Loring Place, chef Kluger's skill for creating delicious market-driven dishes, with unexpected but incredibly pleasing flavor combinations, is on full display. The menu, comprised of small and large shareable plates, spotlights farms and farmers whom Kluger has gotten to know intimately over 20+ years of frequenting the Union Square Greenmarket.
Loring Place is named for the street Kluger's father grew up on in the Bronx (Arthur Kluger, 1905 Loring Place, Bronx, NY). The homage to Arthur Kluger is just one of the many ways the spirit of New York City courses through the restaurant's veins: the energy of historic 8th Street seeps through the front windows and feeds the dining room; the style of warm, effusive hospitality that is a centerpiece at Danny Meyer's establishments, where Kluger was introduced to the restaurant industry, is ever-present; and, in the kitchen, years of learning from chef-mentors is evident . Loring Place, simply put, is a celebration of New York and all things local.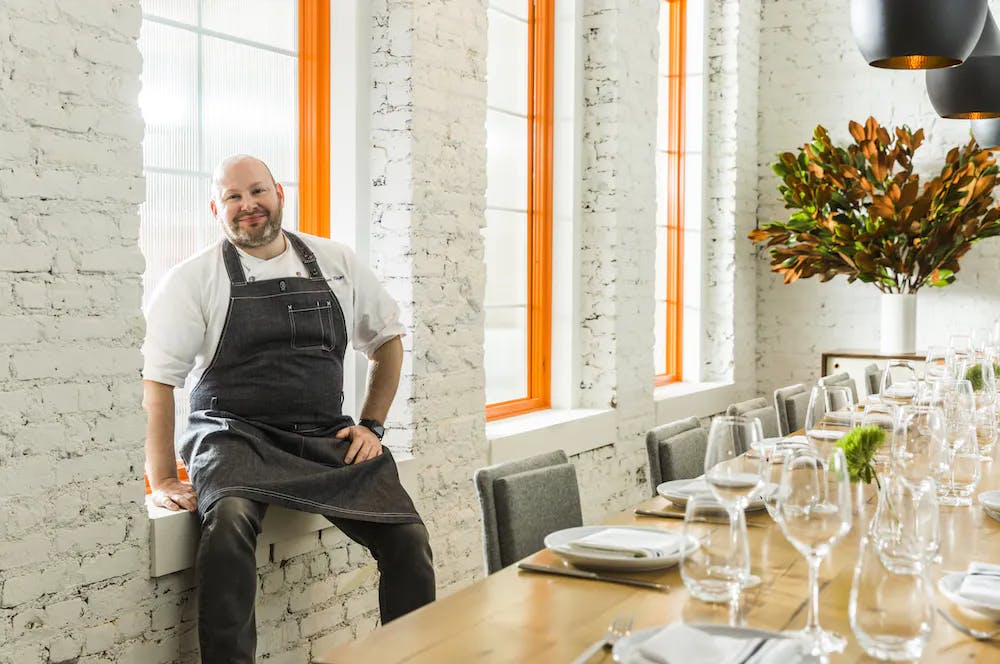 The menu at Loring Place is guided, first and foremost, by the bounty of the greenmarket, a practice that Kluger began early in his career at Union Square Hospitality Group (USHG). In his first restaurant job as a maître d' at Union Square Cafe in 1995, Kluger was responsible for printing the night's specials and learned about local produce in the process. He later moved into the kitchen at Union Square Cafe and worked his way up through the back of house. He then joined the original team at Tabla, Floyd Cardoz' beloved New Indian restaurant, where going to the market became a daily ritual.
"I was enamored by the seasons of New York City and the bounty of the market. Walking from stand to stand and putting my hands on three or four great ingredients, using that as the inspiration for a dish, quickly became the way I liked to cook,"
says Kluger. Each dish at Loring Place is made with sharing in mind, whether it's a vegetable-forward small plate, locally-caught seafood, or meat from a local farmer.
Each bite delivers a hint of sweet and salty, sour and bitter, texture and color. "We want the dining experience to be fun and convivial," explains Kluger. "This is meant to be a restaurant for all occasions, and the menu is designed to enable that." Much of the cooking happens over open fire, thanks to the kitchen's side-by-side wood-burning grill and wood-fired oven, which fill the restaurant with the delicious smell of burning wood. Inside the oven, Brussels sprouts and broccoli may roast slowly in cast iron while pizzas crisp alongside. Next to the oven sits a sizable grill where steaks and vegetables receive a char and crunch achieved only with an open flame. The grill's burning embers are utilized, too, to smoke mushrooms or pekin duck and to lightly char leeks, leaving them melted, rich, and smoky. On the sweet side, the dessert menu is classic and comforting: fresh-baked cookies served warm, petite pies filled with local fruits, homemade ice cream, and more straightforward bids for the palate.
The bar and wine program is led by Stuart Williams and consists of hand-crafted cocktails and artisanal beers. Like the food, the cocktail list features farmers market produce and some of the finest small-batch local spirits from up and down the East Coast – as well as a handful of independent, distinctive, international craft distilleries – in order to offer a regularly changing selection of seasonal cocktails and excellent renditions of some of the best classics. The wine list features a curated selection from classic regions that reflect key elements of Kluger's food—texture, balance, focus, whimsy.
The warm and inviting interior – in a historic 1848 building – was designed by Craig Shillitto of NY-based Cycle Projects. For the design, Shillitto worked closely with Kluger to bring the chef's vision to life: a space that takes cues from Kluger's culinary philosophy, utilizing beautiful natural ingredients and giving them a creative slant. The interiors, while warm and homey thanks to a materials palette of wood, original brick finished in white, and pops of color, are simultaneously minimalist and modern. The combination of brick and wood (the floors are gray-stained oak) with black steel and glass for the bar is decidedly "urban-rustic." The building's original pine beams have been turned into tables by NY City Slab and shelves that hang above the bar. Designer Todd Snyder curated the staff uniforms and collaborated with Kluger to create custom aprons whose contrast double-needle top-stitching, herringbone twill-tape straps, and melamine button collar adjusters reflect a refined blend of utility with aesthetics.
Since opening in December 2016, the Loring Place team has been proud to be a part of the Greenwich Village neighborhood, and most recently expanded to open Washington Squares, a to-go only pizza concept inspired by the grandma pizza at Loring Place as well as Penny Bridge located in Long Island City.